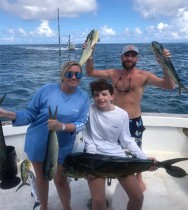 If you want to excite your child with this sport, do not take him along for fishing, but let him fish. Supply appropriate equipment to the child. A boy six years old boy is unlikely to drive a rotary reel to fish for sharks, but maybe a small spinning ree. Also, do not seek your own brilliance, but his fun. Take care of him, without exaggeration, but look out for his wellbeing to make it an overall positive experience, bring: sunscreen, hat, insect repellent and sunglasses.

Start from the basics

Excited by a particular technique, you may think your child should handle it without going through other stages. Big mistake. If you want your child to flyfish, begin to teach him how to catch snappers , catfish fishing with worms, and silverside minnows and with buoys. If you enter the world of fly with a fly rod in hand, you will probably generate much frustration, and he'll never want to come along again.
Do not force

Do not insist on him to accompany you for a Fishing trip. By forcing their kids to fish, many friends only obtained their offspring's aversion against fishing. A boy's nature tempts him, normally. If he sees you enjoying it he will enjoy it and when he does, how strange, he will ask you to take him fishing. Once you are fishing, do not push each step as if it were the last time you were taking him. Kids get tired easily and have other time limits. They suffer cold, get hungry, resent the sun and mosquitoes and often are not used to the outdoors, as they spend many hour sa day at school or watching TV or on the computer. Do not force a change of situation and give them time to change their habits without demanding too much.